Restore, Revitalise, Rejuvenate - Leather Care for Antique Leather
Antique Leather Dressing from Pecard USA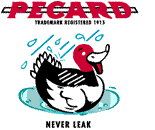 We are proud to offer Pecard Antique Leather Dressing for sale - this is an antique leather treatment which, we think, is better than anything else on the market, at any price. We can ship worldwide to all destinations outside of North America.
Pecard Leather Dressing is a safe, clean, leather care product which will help with restoration, revitalisation, rejuvenation, waterproofing and also cosmetically enhance the valuable leather items in any collection - whether it be militaria or whips. Pecard will soften and revitalise old leather, giving it a lasting suppleness and a shine that can be gently buffed (on non-flaking surfaces only), it will also greatly slow the further deterioration of articles that have areas which are cracking or flaking.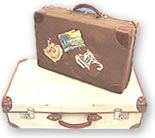 Pecard Leather Dressing cannot perform miracles - so it won't restore deterioration that has resulted from lack of care and inappropriate treatment over the years; although, having said that, it can work wonders and revitalise any leather, old or new - why not try it and see for yourself? These customers did:-
The picture on this page
The larger suitcase is finished in beige canvas with leather trim. it is British Military Issue, with the Broad Arrow stamp, dated 1966. The small travel case, with a canvas and leather cover, is complete with original shipping stickers.
Photographs of leather www.oldnautibits.com